I had taken a good look at the handmade kitchens available to get some much needed inspiration for my own kitchen. This is my first ever kitchen of my own so I did not want to make any mistakes both practically and expensively. Now I had to get realistic and look at the high street kitchens available within my budget (which wasn't vast!). You may notice some similarities between the kitchens.
I looked at B&Q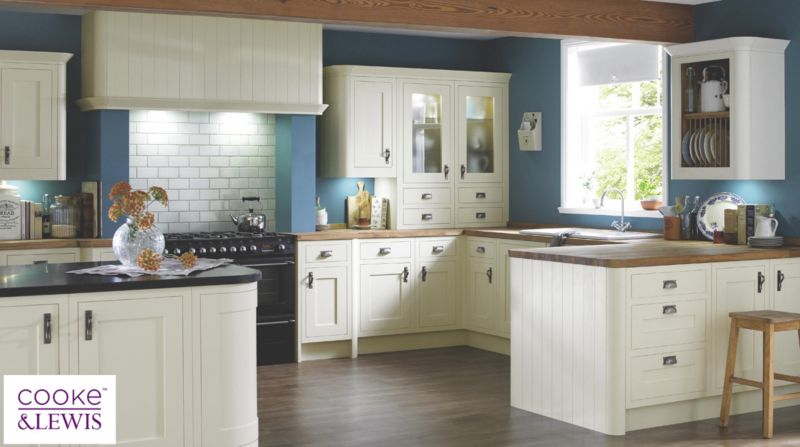 I looked at Wickes
I looked at Magnet
I looked at Howdens
I looked at Ikea
Images: B&Q, Wickes, Magnet, Howdens, Ikea
I was surprised by how nice these kitchens were and all the nifty gadgets they contain. Kitchens have come a long way! Drawer dampeners stop drawers smashing back into their units, metal basket drawers, pop up plugs, pull out larders, islands, even dishwashers and fridges that are housed in drawers! It's quite amazing really and I can understand how people can spend so much on kitchens when you look at what is available. My favourite kitchens were narrowed down to Howdens and Ikea. However as you have to use a builder to buy a Howdens kitchen and we wished to cut down costs by installing the kitchen ourselves I went with Ikea. What I have noticed about kitchens is the fact that stores are very vague with their pricing (another reason why I went with Ikea as I wanted to know exactly what everything cost). If you are considering purchasing a kitchen yourself it maybe worth getting quotes from all stores you are interested in purchasing from and then use these quotes to make the stores compete for your sale. I have heard that some people have had good reductions doing this. Also another way to reduce the cost is to offer to pay cash if a percentage is taken off the total cost of the kitchen - anything is worth a go as it's a very expensive purchase!